MIDTERM MORTGAGE TRANSFERS:
In today's low interest rate environment, a mid-term mortgage transfer could be an amazing way for you and your family to save thousands of dollars in interest.
Many borrowers don't think they are able to transfer mid-term, however, it is possible.
To consider this as an options we need to make sure that it is in your best financial interests to pursue it.
When you break your mortgage at your current lender there will be a penalty levied.   The new lender will cover all of the fee associated with the switch but not the penalty.   The new lender will allow you to include up to $3,000.00 into the new mortgage term.  If your current mortgage penalty is greater than $3,000.00 you will need to cover that cost out of pocket.
How much can one save?
Well there are few factors to consider.
What is the remaining balance on your mortgage?
What is your current rate?
How much time is left on your existing mortgage term?
How much is your exiting mortgage penalty?
I want to offer up an example of a mid-term transfer that we just completed for one of our clients.
Clients had about 38 months left on their existing mortgage term.   Their rate was 3.19% with a remaining mortgage balance of $419,438.00.  Their current mortgage payments were $2,026  per month.  Their penalty was $3,675.00 (Please note that penalty amounts can vary widely depending upon your current lender's policy).
We prepared the following calculation for them.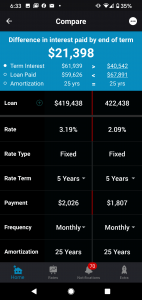 We were able to secure them a new mortgage rate of 2.09%.  We included $3,000 of their penalty giving them a new mortgage balance of $422,438.00.   The new mortgage is going to save them approximately $21,398 just in interest and they will pay an additional $7,000 in principal.  Please keep in mind this is on a comparison basis over a new 60 month term.  The clients had to pay $675.00 out of their own pockets to make the switch but the financial benefits were substantial.
If you would like to explore your mortgage options and see if a mid-term transfer is right for you, please contact us.
Sincerely,
Peter Paley & Associates