Auto, Boat, & RV – Financing and Refinancing
Removing a co-signer from a loan
Cash back
Refinancing Vehicle Loans to lower payments.
Building Credit
Longer Amortizations with RV and Boat loans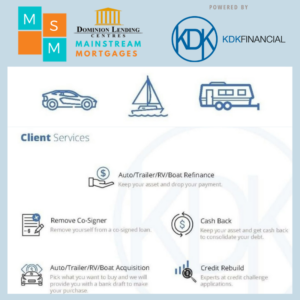 We have partnered with KDK Financial to help clients with the following services.
Removing a co-signer from a loan
Cash back
Refinancing Vehicle Loans to lower payments.
Building Credit
Longer Amortizations with RV and Boat loans
In today's stricter mortgage market.  Having solutions available to you is very important.
We offer fast approvals and quotations, usually on the same day.
Contact us for more information