COVID-19 UPDATE:
While we are all in disbelief, the world must go on.  Last week we fielded over 200 inquiries regarding mortgage options and deferred payments.  As usual,  everyone has jumped the gun.
The government, the banks, our lenders have all announced up to 6 month mortgage deferrals.   How does one qualify?  How many months is each lender allowing?  What are the criteria?….  At this point?  Nobody knows.
Lenders are being inundated with telephone calls up to 5000 calls per lender per day.  Wait time are up to 4 hours if the phone call even gets answered.  From what we have gathered so far, one must be directly affected by the Covid-19 crisis due to illness and/or employment layoff.   Each lender is looking at the borrowers individual situation on a case by case basis.
New purchasers need to be somewhat certain that their employment will continue beyond the crisis.  A layoff before possession could cause a lender not to fund your mortgage.  Realtors, you need to be aware of this fact when writing up offers to purchase.   How is Covid-19 going to affect sales contract?  That will be an ongoing question to be determined.
Existing mortgage holders.  Now is the time where you may want to refinance and pull out equity if you are able to and qualify.   We are recommending having access to 6-12 months of household income in had as we navigate through this global crisis.  Should there be enough equity to borrow against, we recommend trying to get a Home Equity Line Of Credit or simply refinancing your existing mortgage.
Finding updates or any information in the financial industry has been very frustrating.  Dominion Lending Centres has created an website dedicated to Covid-19 updates and information.  You can access the website through our website by clicking on the "Learn More" on the blue Covid-19 bar.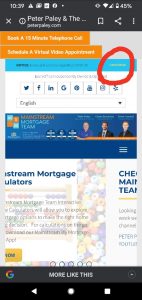 Please watch our YouTube video and stay safe.
Click the link below for our YouTube video!