NON-REGISTERED SAVINGS PLANS – PETER PALEY – INVESTIA FINANCIAL SERVICES INC – investia.ca/peter.paley
Non-Registered Savings Plans Non-registered savings plans play the same role as personal savings accounts. You can accumulate savings to carry out your plans (education, trips, a house, etc.) or increase your retirement income. If you want to accumulate short-term amounts (safety cushion, vacation, etc.) or if you have reached an RRSP contribution limit, non-registered savings […]
Non-Registered Savings Plans
Non-registered savings plans play the same role as personal savings accounts. You can accumulate savings to carry out your plans (education, trips, a house, etc.) or increase your retirement income.
If you want to accumulate short-term amounts (safety cushion, vacation, etc.) or if you have reached an RRSP contribution limit, non-registered savings is a solution to consider.
Benefits
Your protection against financial market fluctuations could reach and even exceed 100% of the invested capital.
We ensure the continuity of your contributions in the event of disability (certain conditions apply).
With the majority of investment instruments, you have access to your capital and taxes are not withheld. However, your investment income is taxable.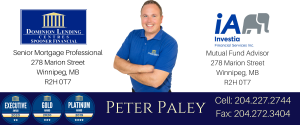 Peter Paley is a licensed mutual fund advisor in the Province Of Manitoba for Investia Financial Services you can visit his personal webpage at investia.ca/peter.paley